Far Cry Primal Legend of the Mammoth : Prenez de la hauteur et semez le chaos!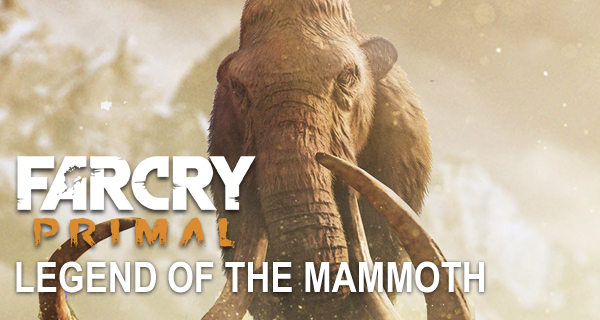 Si un « massacre par écrabouillement » vous dit, alors Far Cry Primal Legend of the Mammoth est assurément pour vous!
Legend of the Mammoth, qui est offert comme bonus si vous pré-commandez Far Cry Primal, comprend trois missions intitulées : Duel of Beasts, Hunt the Hunters, et The Trapped Elder. Vos missions consistes à aider le patriarche mammouth à piétiner des humains, à affronter un rhinocéros, et à écrabouiller encore plus. Votre ultime but, toutefois, est d'assurer la survie de la horde de mammouths.
Mais comment donc devenez-vous le mammouth? Tout commence en buvant une potion à base de sang concoctée par le shaman Tensay. Vous avez ensuite l'impression de vous élever, et la chose suivante que vous réalisez est d'être un énorme mammouth bien réel, en entier avec des défenses et cette longue trompe géante!
Visionnez le trailer et jugez par vous-même.
Far Cry Primal Legend of the Mammoth apporte 45 minutes de jeu additionnel. Vous pouvez aussi acheter l'Édition Collector du jeu pour avoir accès à une nouvelle arme appelée le Blood Shasti Club, à 4 Enhancement Packs ainsi qu'au 3 missions de la Légende du Mammouth.
---
Far Cry Primal débarque sur PC le 1er Mars 2016, et le 23 Février 2016 sur Xbox One et PlayStation 4.