Faits marquants de Ubisoft E3 2016 : les 12 prochains jeux que vous ne pouvez pas rater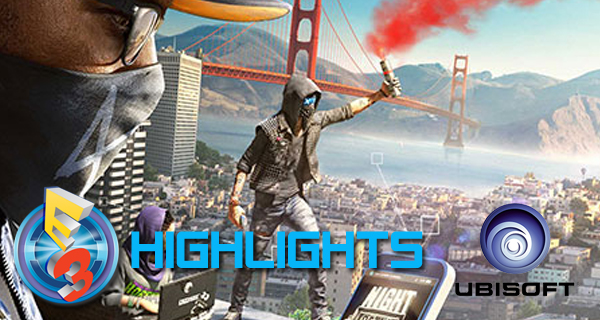 Ubisoft E3 2016
Annonces de dates de sortie, d'extensions et autres
Les prochains jeux à paraître ont été annoncés lors de la conférence de presse de l'Ubisoft E3 2016 le 13 Juin. On trouve parmi ces jeux les très attendus For Honor, Watch Dogs 2, South Park The Fractured but Whole et Ghost Recon Wildlands. D'autres titres pour la réalité virtuelle ont aussi été révélés comme Eagle Flight VR et Star Trek Bridge Crew VR.
Just Dance 2017, bien qu'aucune date de sortie n'ait été donnée, est prévu pour sortir sur toutes les principales plateformes comprenant la Nintendo NX. Ce qui confirme que Just Dance 2017 est l'un des jeux qui tourneront sur la toute nouvelle console de Nintendo, de même que le dernier Legend of Zelda.
Deux nouvelles extensions pour Tom Clancy's The Division ont aussi été annoncées. La première est « The Division : Underground« , dont la sortie est prévue le 28 Juin 2016 pour Xbox One et PC, et le 2 Août 2016 sur PlayStation 4. La seconde extension, Survival, est attendue dans le courant de l'été 2016.
Quels sont les autres jeux cités dans la conférence Ubisoft E3 2016 ? Parcourez la liste complète ci-dessous :