Etherium Vector Thrust et Pillars of Eternity à l'honneur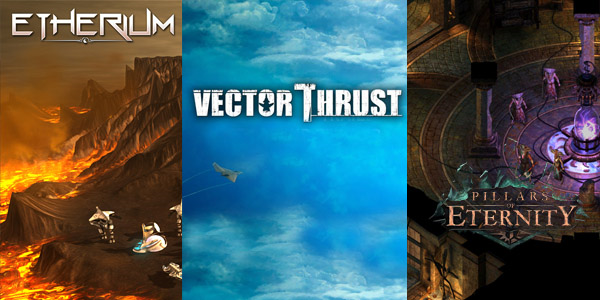 ---
 Disponible à partir de 21.46€
Comme son nom l'indique
Etherium
est un jeu de stratégie tout comme le très connu
 StarCraft
. Ce qui fait la différence avec le mastodonte de Blizzard, c'est que Etherium est orienté vers le joueur débutant qui souhaite se lancer dans le jeu de stratégie.
Tout a été pensé pour mettre en avant le côté stratégique et tactique. L'objectif étant de conquérir les planètes alentours et d'y exploiter le fameux

Ethernium

du même nom.
Etherium proposera un didacticiel suivi d'un mode solo et d'un mode multijoueurs.
En attendant sa sortie prévue le 31 Mars 2015, voici une vidéo où l'on apprend plus sur Etherium.
---
Disponible à partir de 29.99€

Un Pillars of Eternity 2 serait déjà en préparation par les studios 

Obsidian

. Le premier opus ne sortira que dans quelques jours mais le studio a déjà commencé à plancher sur la suite de Pillars of Eternity. La question du financement s'est posée et la réponse a priori toute trouvée serait de lancer le projet sur Kickstarter, la plateforme de Crownfounding désormais bien connue. Les mods seront acceptés et encouragés par l'équipe des studios Obsidian.
Josh Sawyer, le directeur du jeu, a déclaré à GameWatcher :
C'est compliqué parce que nous utilisons le moteur

Unity

, ce qui veut dire qu'il y a certaines choses auxquelles les modders ne peuvent avoir accès, mais nous savons qu'il y a déjà des backers qui font des mods sur la beta du jeu. Ils modifient l'interface utilisateur, les graphismes, ils détestent les choses que j'ai designé… ce qui est bien, vous savez. S'ils veulent changer l'équilibre du jeu ou retourner le

HUD

, pourquoi cela devrait-il poser problème ? 

Si nous pouvons l'encourager, ce qui n'est pas toujours évident avec un budget

Kickstarter

et un moteur middleware, nous le ferons. 

C'était excellent de voir ce qui a été fait avec

New Vegas

, et j'espère non seulement que d'excellents mods seront réalisés sur

Pillars, mais que nous pourrons également ouvrir le jeu au maximum. C'est un jeu solo après tout. Peu importe 

l'expérience

 que les jeux souhaitent avoir, cela me va.
---
Disponible à partir de 11.99€

Pour ceux qui l'aurai loupé, Vector Thrust est disponible depuis 15 jours en accès anticipé à 19.99€ sur Steam, 9€ moins cher en passant par notre comparateur :p
Si vous aimez les combats aériens, piloter des avions de chasse légendaires et sur-armés, alors Vector thrust est fait pour vous.
Déjà 

plus de 50 missions

sont disponibles dans cet accès anticipé. Plus de 250 appareils sont prévus à débloquer au fur et à mesure de votre avancée dans le mode solo mais également dans le mode multijoueurs.
De quoi passer de bonnes heures à sillonner le ciel.