E3 2016 Bethesda : Nouveaux jeux, add-ons, et autres annonces !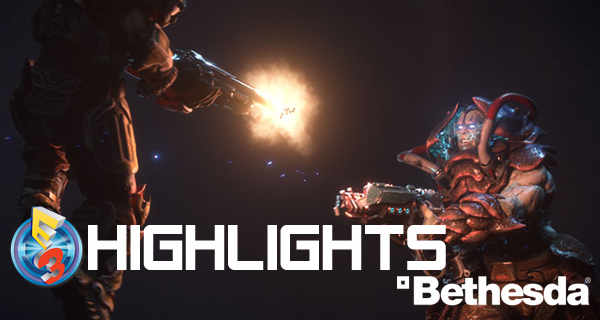 La présentation de Bethesda lors de l'E3 2016 est pleine de « déclarations et de révélations »
Quelques-uns des plus grands titres et des jeux les plus attendus sont sous la bannière de Bethesda. Et avec sa présentation à l'E3 2016, nous sommes sûrement partis pour une autre année pleine d'attente.
Alors qu'y a-t-il pour nous cette année ? On peut s'attendre à de nouveaux jeux de titres bien connus comme Quake, The Elder Scrolls, et Dishonored. Avec aussi sur leur liste de nouveaux add-ons pour Fallout 4, DOOM, et The Elder Scrolls Online. Une version remastérisée de Skyrim sortira aussi, qui le rendra disponible sur consoles. Le très attendu Prey devrait aussi paraître cette année, revu cette fois avec une nouvelle histoire, un nouveau héros et un nouveau style de mission. La réalité virtuelle sera aussi accessible pour deux jeux populaires de Bethesda, Fallout 4 et DOOM !
Grâce à Bethesda, ce sera sans conteste une grande année pour les jeux et les joueurs. Lesquels de ces jeux vous emballent le plus ?
Faits marquants de E3 2016 Bethesda

Voici tout ce qu'a annoncé Bethesda lors de la Conférence E3 2016 :
Le retour de Quake !
Quake Champions marque le retour de Quake. il présente une liste de personnages uniques avec chacun leurs propres talents distincts – faisant que chaque joueur peut jouer en fonction de ses propres forces !
Jeu de carte :
« The Elder Scrolls : Legends » allie jeu de carte stratégique avec une campagne basée sur une histoire solide.
Nouveaux DLC !
De nouveaux add-ons pour Fallout 4 ! Notez bien ces dates : – Contraptions Workshop : 21 Juin 2016 – Vault-Tec Workshop : Juillet 2016 – Nuka-World : Août 2016
Skyrim remastérisé :
Avec Skyrim Édition Spéciale, vous pouvez dorénavant jouer sur votre console préférée ! Lancement le 28 Octobre 2016 sur PC, PlayStation 4 et Xbox One !
Prey réinventé !
L'équipe de Dishonored va ré-imaginer Prey à partir de zéro ! Disponible sur PC, PlayStation 4 et Xbox One en 2017.
Pack premium DLC !
Le DLC DOOM Unto the Evil contient : – 3 nouvelles cartes multijoueurs. – Le nouveau démon Harvester. – Nouvelle arme : UAC EMG Pistol. – Nouvel équipement : Mine cinétique. – Nouvelles options de customisation. – Nouveaux modules de piratage.
DLC de Dark Brotherhood et One Tamriel :
Dark Brotherhood sort sur console le 14 Juin 2016. One Tamriel permettra aux joueurs de faire équipe avec n'importe qui et n'importe où, indépendamment du niveau.
Première pour Dishonored 2 !
Un trailer du gameplay de Dishonored 2 a été révélé ! Le jeu comprend un nouveau héros, un nouveau style de mission et un nouveau décor.
Également à l'affiche :
– DOOM et Fallout 4 seront adaptés aux équipements VR. – Avec la toute nouvelle Édition Spéciale de Skyrim, la totalité des Mods PC sortiront aussi sur console.
---
Alors, que pensez vous de cette E3 2016 Bethesda ?