DreamHack 2016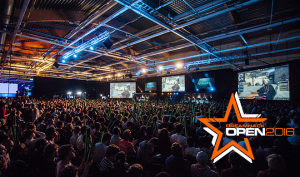 DreamHack est un événement eSport qui se déroulera du 14 au 16 mai 2016 à Tours. En 1994, la première édition du Dream Hack a organisé une petite LAN en Suède. A présent, il existe deux événements majeurs toujours présents en Suède : la DreamHack Winter et la DreamHack Summer. Chaque année de plus en plus de participants se présentent à la LAN. De plus, elle est devenue la plus grande LAN de France !
Quatre événements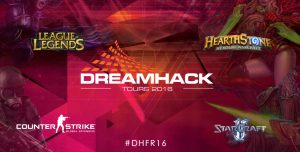 Cette année quatre événements auront lieu sur les jeux suivants : CS:GO, Hearthstone, LOL, et StarCraft 2. Valve, qui est partenaire de cette édition, organise un tournoi Minor pour Counter-Strike : Global Offensive comportant $50 000 de cashprize !
De plus, Blizzard organise deux tournois : DreamHack AllStars, un tournoi de Heroes of the Storm avec $100 000 de cashprize, et le DreamHack Open, avec un cashprize de $150 000 et des points pour les World Championship Series.
Pour y participer, il faudra apporter son propre ordinateur.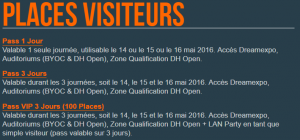 Horaires d'ouvertures
La LAN Party sera ouverte  ;
Vendredi 13 mai à 18h au lundi 16 mai à 14h
Samedi 14 mai de 9h00 à 19h00
Dimanch de 9h00 à 19h00
Lundi de 9h00 à 18h00
Pour les tounois du samedi 14 mai à 10h00 au lundi 16 mai à 18h00
Afin de connaître le programme, rendez-vous sur Jeu.video !