Dragon Age Inquisition : essayez le avant de l'acheter
Dragon Age Inquisition est notre jeu du jour, disponible à partir de 29.28€

La communauté nous fait grâce de plus en plus de vidéos de gameplay, vidéos, images sur Dragon Age Inquisition. Nous découvrons avec plaisir les graphismes et quelques éléments en jeu au travers de cette vidéo par exemple de la chaîne Youtube Open World Games.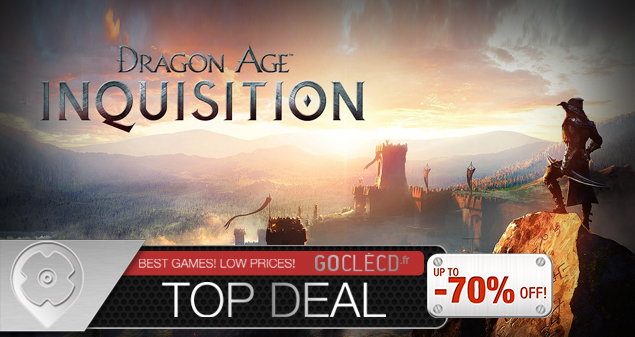 Vous pouvez également accélérer la vidéo pour passer directement à ce qui vous intéresse.
Voila le programme de la vidéo:
0:51

Introductions and Happy Halloween Dragon Age fans!
7:19

Exploring Skyhold
8:09

The War Table: The Map, Perks, connections, and quests
13:15

Welcome to the coast (dialogue options)
14:12

Inventory menu, potions and more
16:06

Scouting Ahead and strategizing before battle
16:37

Beginning our journey and free roam exploration!
18:29

Our first battle!
19:13

Morrin's Outlook
19:37

There be Dragons…baby Dragons. How evil 🙁
21:42

The Tactical Camera
24:52

Weapons, Armor, and Inventory
26:15

Into The Dungeon! Ooooo! Look! Spider webs 🙂
26:40

There be giant spiders
30:45

More combat and back to the coast! More spiders
32:56

Dragon and Giant battling in the distance!
Mais surtout et ce qui nous intéresse tous (enfin ceux qui possèdent une Xbox One), car en effet certains d'entre vous connaissent déjà peut-être le service EA Access d'Electronic Arts disponible pour 4 € et uniquement disponible sur Xbox One,

c

e service propose aux joueurs des jeux gratuits et de tester certains jeux vidéos afin de pouvoir se faire une opinion. Vous disposerez donc de 6h d'accès a

Dragon Age Inquisition

, largement de quoi découvrir le jeu (ou faire comme moi et jouer à fond et ne plus jamais y toucher….)
Pour rappel et selon les développeurs du jeu, attendez-vous à plus de 200 h de jeu donc avec vos 6 h de test vous n'effleurerez que partiellement la surface du dernier Dragon Age troisième du nom.
L'accès au test sera disponible à partir du 13 Novembre. Après ce test le joueur aura droit à une remise de 10% sur l'achat du jeu…..
(je Laule)
Sachant que vous avez des vendeurs qui proposent Dragon Age Inquisition 40% moins cher immédiatement et sans tenir compte des coupons  tout simplement en passant par notre comparateur.