Les détails du DLC gratuit et Season Pass d'Assassin's Creed Origins révélés
L'Égypte ancienne est bien aussi vaste que vous l'imaginiez ! Ubisolft a révélé des détails sur le prochain DLC gratuit et Season Pass d'Assassin's Creed Origins. Ce contenu supplémentaire apportera de nombreuses nouvelles aventures.
---
---
Voici tout ce que nous savons là-dessus jusqu'ici :
Contenu Gratuit :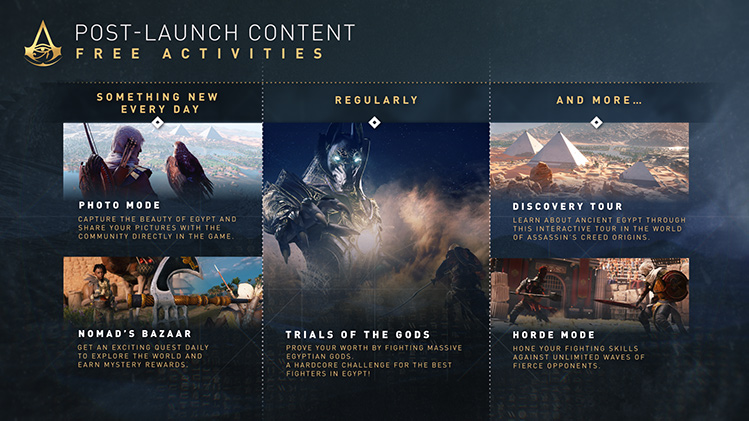 Paraissant juste après le lancement du jeu, ces DLC gratuits d'Assassin's Creed Origins amèneront des activités que vous pourrez apprécier librement :
The Trial of the Gods – Sortant 15 jours après le lancement du jeu, The Trial of the Gods vous laisse affronter des dieux égyptiens dans des batailles de chefs. Elles auront lieu lors d'évènements spéciaux planifiés, et vous rapporteront des récompenses en cas de victoire.
The Nomad's Bazaar – Il sera disponible au lancement. The Nomad's Bazaar vous permet de retrouver un marchand nomade qui vous donnera des quêtes quotidiennes. Vous recevrez de mystérieuses récompenses exotiques.
Photo Mode – Également disponible au lancement, Photo Mode vous permettra de capturer la beauté des décors du jeu et d'apprécier les clichés d'autres joueurs.
Discovery Tour – Disponible début 2018, Discovery Tour vous donne la liberté d'explorer tranquillement et de découvrir ce que le monde d'Assassin's Creed Origins a à offrir sans devoir affronter d'ennemis.
Horde Mode – Également disponible début 2018, Horde Mode vous met au défi d'affronter des vagues incessantes d'ennemis dans une arène de Gladiateur en utilisant votre lame et votre arc.
Season Pass d'Assassin's Creed Origins :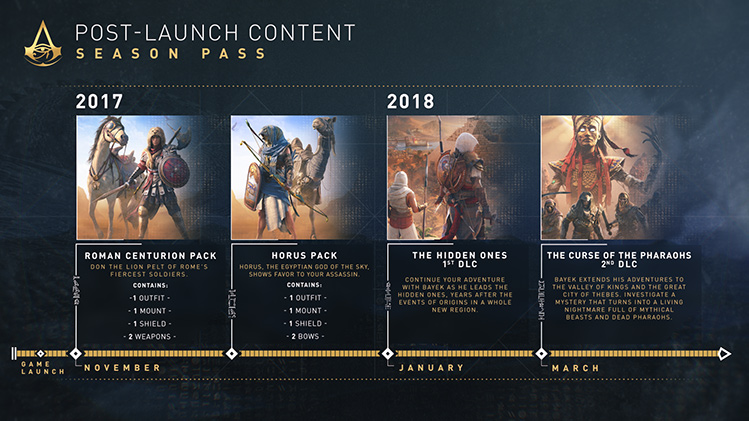 Le Season Pass d'Assassin's Creed Origins apportera aussi deux DLC qui paraîtront l'année prochaine, ainsi que des packs de contenu disponibles au lancement. Le Season Pass est inclus dans l'Édition Gold du jeu. Vous pouvez aussi l'acheter séparément.
Voici ce qui est inclus dans le Season Pass :
Roman Centurion and Horus Packs – Ceux qui ont le Season Pass recevront des items exclusifs via ces packs (de nouvelles tenues, armes, armures et montures).
500 Crédits Helix + La Lame Exclusive Calamity (arme rare) – disponible au lancement du jeu.
DLC 1: The Hidden Ones – Disponible à partir de janvier 2018, le premier DLC est une extension basée sur une histoire qui se passe des années après Origins dans une nouvelle région occupée par l'Empire romain. Bayek fera équipe avec les assassins avec les romains comme ennemis. Une nouvelle limite de niveau sera aussi introduite avec cette extension.
DLC 2: Curse of the Pharaohs – Cette extension sera disponible en mars 2018. Elle repose aussi sur une histoire et est centrée sur la mythologie égyptienne. Les joueurs se battront contre des pharaons égyptiens morts-vivants et de célèbres monstres égyptiens. La limite de niveau sera à nouveau augmentée avec cette extension. Bayek obtiendra aussi une nouvelle compétence.
Vous pouvez avoir un aperçu de cet impressionnant contenu supplémentaire dans la vidéo ci-dessous :
Assassin's Creed Origins sera disponible à partir du 27 octobre 2017 sur PC, PS4, et Xbox One.