Les critiques de Battlefield 1 sont parues ! Voici ce qu'elles disent.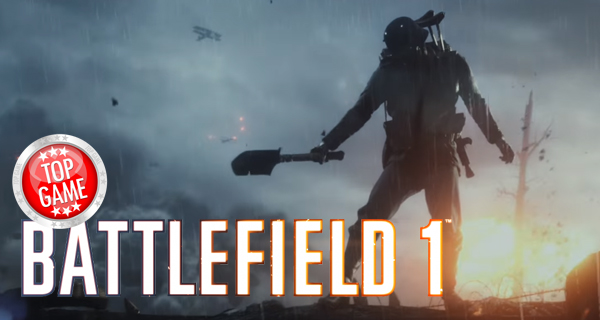 Les critiques de Battlefield 1 sont enfin sorties !
Étant l'un des jeux les plus attendus de l'année, les critiques ont assurément beaucoup à dire depuis qu'ils ont mis la main sur le jeu. Les avis sur Battlefield 1 sont sortis dès le 18 octobre, le jour où Battlefield 1 Early Enlister Deluxe Edition est paru. Nous nous référons aux avis collectifs du site Metacritic pour savoir ce que les critiques de jeux en pensent.
En résumé, la plupart des critiques de Battlefield 1 applaudissent la précision historique du jeu. Son mode multijoueur bénéficie aussi de nombreuses mentions, en particulier pour ses cartes, ses modes de jeu, et ses armes. La campagne de Battlefield 1 est également remarquable, les critiques la jugeant unique et mémorable.
Bien sûr, le jeu n'est pas 100% parfait, et quelques anomalies sont relevées. L'une d'elles est son mode de jeu Rush, qui d'après Hardcore Gamer,, est regrettable car « il semble avoir été ajouté après coup« . Il y a aussi quelques problèmes de séquences vidéos mineures, selon Gaming Trend. Ses missions joueur solo manquent d'impact émotionnel, bien qu'elles procurent de bons moments comme le dit GamesRadar+.
Dans l'ensemble, Battlefield 1 a reçu des avis globalement favorables pour les trois plateformes (PC, PlayStation 4, et Xbox One). Après tout, c'est un sacré jeu !
---
Revues des critiques de Battlefield 1
100 The Daily Dot + Des batailles intenses jouées au sein d'un monde magnifique. – La précision historique n'est pas des meilleures.
95 GamingTrend + Format de campagne unique. + Décor historique émouvant. + Modes multijoueur et classique excellents. + Graphismes de premier ordre. + Audio exceptionnel. – Les combats rapprochés demandent des mises au point. – Problèmes mineurs dans des séquences vidéos. – Les troupes spéciales sont étranges, surpuissantes.
90 GameSpot + Campagne mémorable et prodigieusement variée dans ses objectifs, ses histoires et ses personnalisations. + Le décor de la Première Guerre Mondiale s'accorde parfaitement au style de gameplay de Battlefield. + Le mode multijoueur New Operations est un grand classique qui offre un contexte historique. + Les cartes multijoueurs sont aussi agréables visuellement qu'elles sont palpitantes. + Un système de progression riche renforce l'intérêt de rejouer le jeu en multijoueur. – L'interface utilisateur non intuitive est une tâche au sein d'un mode multijoueur par ailleurs de toute beauté.
90 Time Un FPS incroyablement magnifique.
80 GamesRadar+ + Les combats sont incroyablement violents et profonds. + Les opérations vous donnent l'impression de faire partie d'un conflit plus large. + Des véhicules plus lents et des armes moins efficaces amènent Battlefield à une échelle plus maniable. – Les missions joueur solo proposent de bons moments, mais manquent d'impact émotionnel. – Les catégories de véhicules multijoueurs ont besoin d'être travaillées.
80 Hardcore Gamer Mettant un terme à tous les doutes concernant le cadre de la Première Guerre Mondiale, Battlefield 1 est un vrai jeu Battlefield avec tout ce que l'on peut attendre de la franchise. L'expérience multijoueur est au sommet grâce à quelques cartes bien conçues, une grande quantité d'armes et des modes de jeux de qualité. Il est dommage que Rush semble être un ajout après coup, mais le mode Operations le compense largement par ailleurs. Malheureusement, la campagne joueur solo semble elle aussi rajoutée. C'est davantage un tutoriel amélioré de huit heures, un entraînement au multijoueur envoyant les joueurs dans des tanks et des avions plutôt que racontant une histoire cohérente. Au final, c'est le multijoueur qui importe le plus, et Battlefield 1 excelle à donner aux joueurs l'expérience Battlefield qu'ils aiment à une époque avec laquelle ils ne sont pas vraiment familiers.
70 Attack of the Fanboy Un changement pour des histoires plus courtes et plus personnelles accompagné d'une présentation visuelle et audio impressionnante fait de Battlefield l'un des FPS les plus divertissants produit par DICE depuis longtemps. Bien que le multijoueur soit bien moins ambitieux que ce que nous avons vu les années précédentes, il comble les fans de Battlefield avec ce besoin de chaos et de coopération que seule cette série peut procurer.