The Crew est maintenant en ligne
The Crew est le jeu du jour, disponible à partir de 31.00€

En effet, la plupart d'entre vous ont probablement déjà commencé à télécharger The Crew afin d'être parmi les premiers à jouer à un des MMO les plus intéressants de cette année. Car en effet, The Crew, bien plus qu'un MMO, est avant tout un jeu de courses de voitures multijoueurs. C'est donc en conduisant des bolides que vous pourrez gagner en niveau et ainsi améliorer votre stuff (carrosserie, éléments moteur, et j'en passe).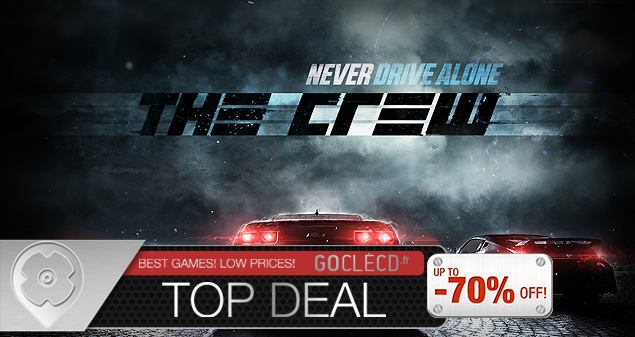 Des problèmes mineurs au lancement de The Crew
Ceux qui ont eu la chance de pouvoir participer à l'accès anticipé ont pu commencer à jouer dès hier, le Lundi 01 Décembre. Quelques soucis de connexion et d'accès aux serveurs ont été rencontrés par la plupart de ces joueurs. Deux mises à jour téléchargeables dès l'installation du jeu sont également à prévoir, et malheureusement la deuxième peut dans certains cas provoquer un problème de sauvegarde corrompue.
Ubisoft est déjà sur le problème depuis hier et ce bug serait en court de résolution à l'heure ou j'écris ces mots.
The Crew ne s'arrête pas là, car en plus de proposer des graphismes très beaux sur pc, une nouvelle bande annonce de lancement a inauguré la sortie de The Crew. Etant un joueur sur PC je suis très content de la qualité graphique de celle-ci.
Malheureusement pour les joueurs consoles, The Crew n'offre que du 30 fps et la version sur Xbox 360 est une sacrée déception graphique..
L'arrivée d'un Season Pass a également été proposé avec :

2 voitures exclusives dès le lancement.
Un accès rapide à chacune des quatres prochaines voitures (1 semaine en avance)
Des kits de tuning ainsi que des autocollants.
Il est à noter que la version The Crew Gold Edition proposera le jeu + les bonus du Season Pass ainsi que de nouvelles missions, kits tuning, des modes PVP etc… dés Janvier 2015.
Je vous laisse découvrir la bande annonce et je vous souhaite de bonnes courses 🙂
On the road again !!
On se retrouve dessus 😉