La nouvelle cible élusive de Hitman s'appelle le Voleur d'Identité
Cible élusive de Hitman : le Voleur d'Identité
Io Interactive s'affaire avec une nouvelle cible élusive pour Hitman. Le mois d'octobre nous a offert deux cibles élusives qui ont été une surprise pour les joueurs. En général, il y a une courte période avant la sortie d'une nouvelle cible élusive, mais ce mois-ci semble spécial pour une raison inconnue.
La première cible élusive d'octobre est « The Fixer », qui a amené ses joueurs à Marrakech. Elle a démarré le 14 octobre et les joueurs ont eu 168 heures pour en venir à bout.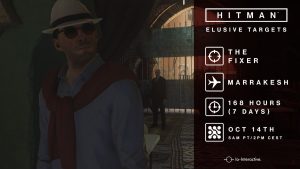 Tout de suite après la cible élusive 11 (The Fixer), la 12 commencera immédiatement. Cette fois votre cible est le Voleur d'Identité et vous devrez le débusquer dans Paris. Le temps alloué pour cette cible est aussi de 168 heures, ce qui fixe l'échéance au 28 octobre 2016 à 14h.
For the first time, we are having back-to-back Elusive Targets.

When ET 11 ends at 2pm tomorrow, ET 12 will start. Have fun! pic.twitter.com/igXjR5rBGH

— HITMAN (@Hitman) October 20, 2016
Par ailleurs, la première saison de Hitman se terminera avec la Saison Finale qui amènera l'Agent 47 à Hokkaido au Japon, et dont la sortie est prévue pour le 31 octobre. Ne la ratez pas.
Hitman est disponible pour PC, PlayStation 4 et Xbox One.