La Cible Élusive 16 de Hitman vous emmène à Sapienza !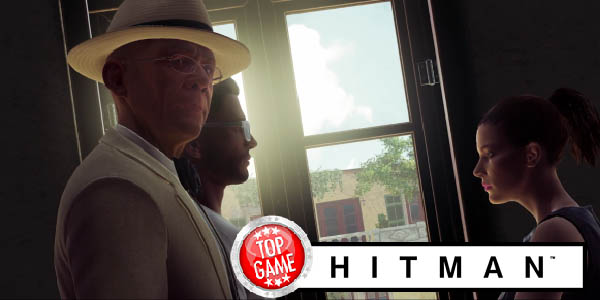 Elle est arrivée, la Cible Élusive 16 de Hitman est maintenant en ligne. Cette fois votre cible s'appelle « The Guru« . C'est un gourou auto-proclamé nommé Richard J. Magee. Son procédé est de s'intéresser aux personnes aisées et de les abandonner une fois leurs comptes à sec. La dernière cible du gourou est un homme nommé Keith Keeble, riche grâce à son fonds fiduciaire.
Les clients de l'Agent 47 sont cette fois les parents de Mr Keeble qui ont décidé de sauver leur fils et leur argent des mains avides du gourou.
Un arrangement a été trouvé. L'avocat de la famille, Katherine Feller, a organisé une rencontre avec Mr Keeble à Sapienza au sujet de l'argent de son fonds. Et bien sûr comme attendu le gourou sera présent pour influencer les décisions de Mr Keeble.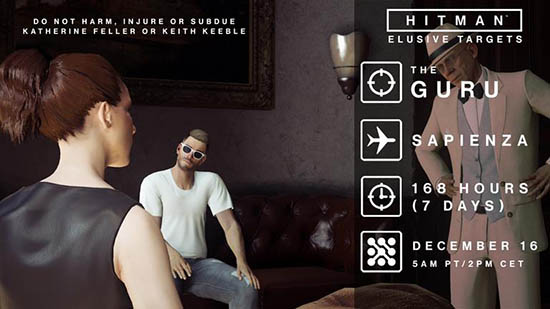 Il y a deux conditions à respecter pour réussir cette mission. Votre client vous demande de ne porter préjudice à leur fils Keith Keeble ni de le blesser en aucune façon, de même que l'avocat de leur famille Katherine Feller. Si par accident cela arrive la mission devient dès lors un échec. Et comme pour toutes les Cibles Élusives, il n'y aura pas d'autre tentative possible.
La Cible Élusive 16 « The Guru » rôde en ce moment dans Sapienza et elle n'y sera que pour une semaine, jusqu'au 23 décembre 14h.
Regardez la vidéo plus bas pour plus de détails sur la mission.