Le calendrier de décembre du contenu de Star Wars Battlefront 2 The Last Jedi est connu
EA vient juste de révéler ce qui est prévu pour Star Wars Battlefront 2 alors qu'ils lancent la première saison du jeu avec un tas de contenu pour The Last Jedi. EA a posté le calendrier des évènements dans un long post sur le site officiel du jeu.
---
Le saison débute le 5 décembre et les joueurs devront faire un choix très important – combattre avec la Résistance ou rejoindre le First Order. Votre choix vous permet de participer à des « défis spéciaux » où vous pouvez gagner des « récompenses spécifiques de faction ».
Le 13 décembre est le jour où sortira la majeure partie du contenu. Premièrement, Finn et Captain Phasma seront ajoutés au jeu, et tous deux débloqués en utilisant des crédits du jeu. De plus, un coffre spécial contenant des « améliorations de grande puissance » à la fois pour Finn ou Phasma sera attribué à la faction qui réalise le plus de défis durant cette semaine.
Le RZ-2 A-wing de Tallie Lindra sera également ajouté, tandis que le T-70 X-wing de Poe Dameron verra des changements inspirés par The Last Jedi. Une nouvelle carte planétaire et une carte Starfighter Assault seront aussi ajoutées.
Resurrection sortira également le même jour. Ceci ajoutera de nouveaux chapitres au mode histoire joueur solo du jeu.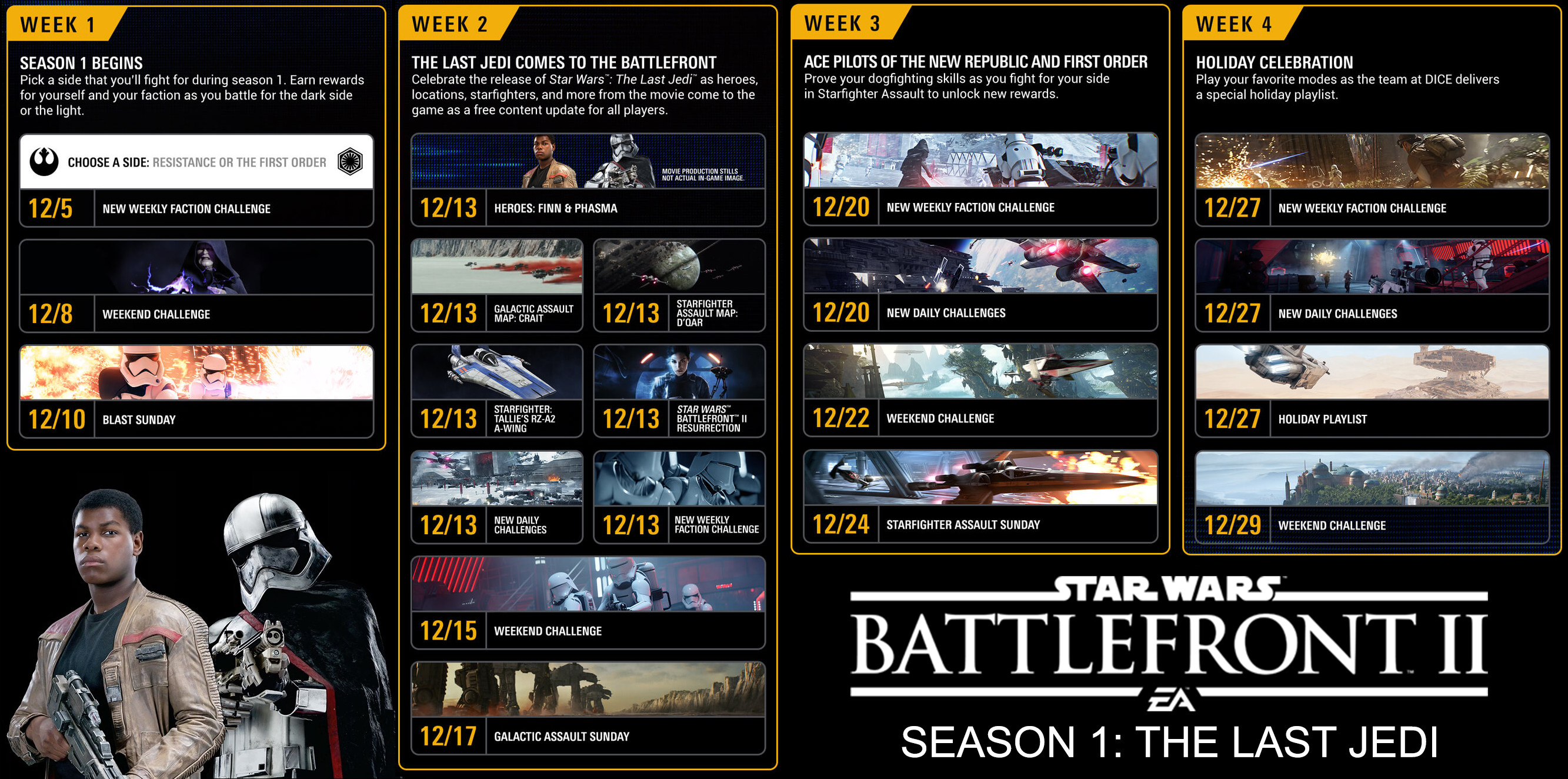 Star Wars Battlefront 2 sort officiellement le 17 novembre sur PC, Xbox One et PS4. Les membres de EA Access peuvent déjà tester 10 heures du jeu sur PC et Xbox One. Ceux qui ont acheté l'Édition Deluxe auront l'accès complet à partir du 14 novembre.