Bordelands The Pre-Sequel – Inclus pour l'achat de certains GPU Geforce GTX !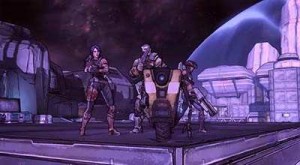 Certains pack de GPU Geforce GTX inclus le prochain Bordelands The Pre-Sequel.
Préparez-vous à tirer et piller pour vous frayer un chemin sur la lune de Pandore, qui permettra un gameplay remodelé pour
Borderlads The Pre-Sequel
, avec l'arrivée de la gravité. Dès maintenant, les gamers qui choisissent les GPU Nvidia
GeForce GTX
Titan, 780 Ti, 780 et 770 recevront une copie gratuite de
Borderlands: The Pre-Sequel
, le nouveau chapitre très attendu de la franchise multi-récompensée Borderlands, développée par
2K et Gearbox Software
. Si vous avez suivit la Gamescom, vous avez également pu voir une vidéo le présentant plus en détail: Découvrez l'histoire du méchant de
Borderlands 2
, le Beau Jack, et son ascension vers le pouvoir. L'action de
Borderlands: The Pre-Sequel
se déroule entre les volets originaux
Borderlands et Borderlands 2
et offre un gameplay en apesanteur inédit.
Si vous avez un GPU Nvidia haut de gamme, Borderlands: The Pre-Sequel vous offrira des effets spéciaux d'une fidélité et d'une performance accrues grâce au matériel. Vous serez notamment impressionnés par les impacts d'armes, les explosions cryo et les particules de glace ainsi que par la simulation des tissus et des fluides qui m'épatent à chaque fois que je les vois , a déclaré Randy Pitchford, PDG de Gearbox Software.
Grâce à la technologie Nvidia PhysX, vous devriez ressentir le vide de l'espace comme jamais auparavant. Plongez en apesanteur, utilisez de nouvelles armes laser et de glace et faites l'expérience du chaos sur de nombreux niveaux. Bien entendu, il ne s'agit que d'une campagne publicitaire, pour promouvoir les cartes graphiques
Nvidia
et le jeu
Bordelands The Pre-Sequel
. AMD avait même porté une affaire similaire en justice il y a  quelques temps, soupçonnant
Nvidia
d'avoir payé un studio de développement pour qu'un jeu tourne plus facilement avec ses propres cartes graphiques. Cependant, si vous souhaitiez acquérir un nouveau GPU, cela reste un bon bundle qui vous est actuellement proposé.