Battleborn : Les caractéristiques du jeu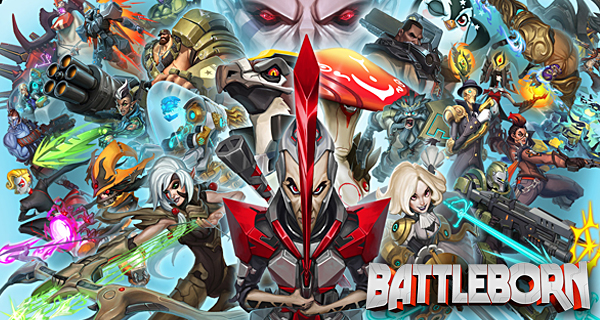 Battleborn, le dernier jeu d'action de Gearbox Software et 2K Games arrive en Mai. Voyons quelles sont les caractéristiques du jeu et les exigences système.
Caractéristiques de Battleborn
Mode Histoire
Battleborn possède un Story Mode répétitif dans lequel vous devez sauver la dernière étoile de l'univers des Rendain et des Varelsi. Ce Mode vous offre des options de jeu comme Play Solo, Play Co-Op, Be Right Back, Find Friends et Hardcore Mode.
Play Solo

: Vous jouez seul et complétez des missions pour accéder aux suivantes.

Play Co-Op

: Les joueurs peuvent créer des équipes et choisir parmi trois cartes déjà disponibles.

Be Right Back

: Si par hasard vous êtes déconnecté en cours de jeu, vous pouvez toujours rejoindre votre équipe. Mais si la partie est déjà commencée vous ne le pourrez pas.

Find Friends

: Vous pouvez aller sur l'écran d'accueil et rejoindre des amis ou des équipiers pris au hasard avec le même niveau pour jouer en Story Mode.

Hard Core Mode

: Vous voulez un défi ? Choisissez le Hard Core Mode dans le Story Mode où vous pourrez réellement vous attendre à de dures batailles, quelques récompenses supplémentaires et de tout nouveaux contenus déverrouillables
Modes Multijouers Compétitifs
Il existe trois modes multijoueurs compétitifs appelés Incursion, Capture and Meltdown.
Incursion

: Tuer ou être tué. Tuez deux Drones Spider Sentry avant qu'ils ne vous atteignent.

Capture

: Il y a deux équipes de héros dans ce classique mode de capture-et-contrôle. Vous devez être la première équipe à capturer et contrôler l'autre pour remporter le jeu.

Meltdown

: Les équipes envoient leurs serviteurs à la mort. Vous gagnez des points s'ils se jettent d'eux-mêmes dans l'incinérateur. L'équipe ayant le plus de ferraille gagne.
Systèmes de Progression
Il y a plusieurs systèmes de progression dans le jeu. Tout d'abord l'augmentation Helix où vous gagnez de l'XP associée et où vous pouvez choisir quelles capacités de vos personnages vous souhaitez renforcer. Ensuite le Rang de Personnage où vous pouvez monter le rang de votre personnage jusqu'au niveau 15, et plus haut est le rang, plus vous obtenez de matériel supplémentaire. Le troisième est le Rang de Commandement, qui peut atteindre 100, ce qui débloquera de nouveaux titres, des options d'équipement, des personnages et beaucoup plus encore.
Un Choix de 25 Personnages
Les 25 personnages constituent juste la liste de départ et vous pouvez espérer davantage après le lancement du jeu. Il y a trois différents types de personnages : Les Attaquants qui se lancent d'eux-mêmes dans une bataille; les Défenseurs qui sont ceux qui encaissent les coups pour l'équipe, et le Support qui se charge des protections, de la puissance de feu supplémentaire et des soins à l'équipe.
Attaquants

: Rath, Deande, Phoebe, Whiskey, Foxtrot, Mellka, Thorn, Marquis, Oscar Mike, Benedict, Caldarius, El Dragon, Orendi, Shane et Aurox et Ghalt.

Défenseurs

: Attikus, Galilea, Kelvin, Boldur, ISIC, Toby et Montana

Support

: Miko, Reyna, Klesse et Ambra.
Exigences du Système pour PC
Minimum:
OS: Windows® 7 x64-bit
Processor: Intel i5-750 / AMD Phenom IIx4 945
Memory: 6 GB RAM
Graphics: AMD HD 6870 / NVIDIA GeForce GTX 460
DirectX: Version 11
Network: Broadband Internet connection
Storage: 30 GB
Sound Card: Compatible DirectX 11
L'installation initiale requiert une connexion internet pour l'authentification Steam et le jeu, l'installation du programme requiert (inclus avec le jeu) le Client Steam, DirectX 11, NVidia PhysX, .Net Framework 4.5, Visual C++ Redistribuable 2010, et Visual C++ Redistribuable 2012.
Recommandée:
OS: Windows® 7 x64-bit
Processor: Intel i5-750 / AMD Phenom IIx4 945
Memory: 6 GB RAM
Graphics: AMD HD 7850 / NVIDIA GeForce GTX 660
DirectX: Version 11
Storage: 50 GB
---
BATTLEBORN sera disponible le 3 mai 2016 sur PC, PLAYSTATION 4 et XBOX ONE
---