Sony publie la bande-annonce de The Last Of Us 2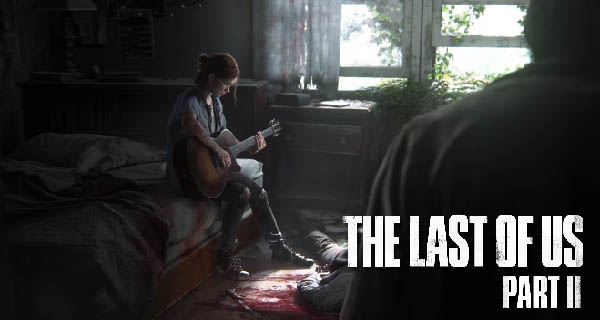 Sony a récemment révélé lors de l'évènement PlayStation Experience la bande-annonce de The Last Of Us 2. Elle montre en fait une suite directe du jeu original paru en 2013.
Vous vous souvenez d'Ellie ? Cette petite fille sans défense dans The Last Of Us ? Elle est de retour, elle a grandi et elle est tatouée. La vidéo commence dans une forêt déserte puis dans ce qui ressemble à un village abandonné. Ellie est assise sur un lit dans l'une des maisons. Elle est dans l'une des chambres maculée de sang et joue de la guitare acoustique. Elle chante les paroles de « Je marche dans la vallée de l'ombre de la mort. Et je ne crains aucun mal, parce que je ne vois pas tout cela. Dans mon esprit, mon fusil, ils viennent pour moi, parce que je sais que je tuerai mes ennemis quand ils viendront. Certes, la bonté et la miséricorde me suivront tous les jours de ma vie et je demeurerai sur cette terre pour toujours. J'ai dit que je marche à côté des eaux tranquilles et qu'elles restaurent mon âme mais je ne peux pas marcher sur le juste chemin parce que je fais fausse route.« 
December 3, 2016
The Last Of Us 2
Alors qu'elle fredonne son air de désespoir, un homme armé d'un fusil entre dans la maison. Il enjambe les corps sans vie et aperçoit Ellie. Il lui demande alors, « Que fais-tu petite ? Tu veux vraiment continuer ça ? » Elle répond, « Je continuerai à chercher, et je les tuerai jusqu'au dernier. » C'est une parfaite histoire de vengeance qui nous tient en haleine pour la suite du jeu.
Aucune date de sortie n'a toutefois été précisée pour le jeu. Et Shawn Druckmann de Naughty Dog, le directeur de création du jeu, a confirmé que Ellie et Joel sont de retour en tant que personnages du jeu en disant, « Joel était la star dans le premier, Ellie l'est dans celui-ci. » Il a aussi ajouté que « Elie joue différemment de Joel.« 
Druckmann a aussi écrit sur le blog PlayStation que, « Je ne peux pas vous dire à quel point il est satisfaisant de pouvoir enfin dire que Ellie et Joel sont de retour pour une nouvelle aventure intense, déchirante et émouvante. Comme beaucoup d'entre vous, nous avons une profonde affection pour le monde de The Last Of Us et ses personnages, et bien qu'une suite ait semblé être une conclusion inévitable, cela n'a pas été le cas. Nous savions que ce devait être un récit digne de Joel and Ellie. Après des années passées sur différentes idées (et avoir presque abandonné), nous avons finalement trouvé une histoire qui semblait spéciale – une histoire qui se transformait en un voyage épique.« 
Êtes-vous enthousiasmés par The Last Of Us 2 ? Partagez vos opinions avec nous dans les commentaires ci-dessous.