Alerte Week-end Gratuit Overwatch ! Jouez gratuitement à Overwatch du 26 au 29 mai !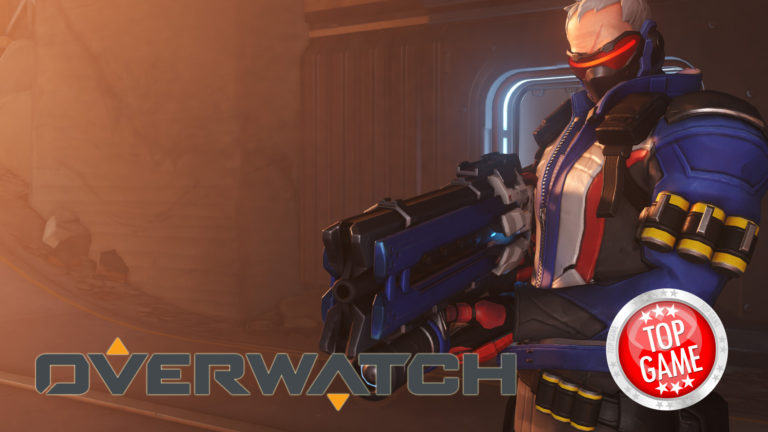 Les amis, un autre Week-end Gratuit Overwatch arrive ! On ADORE absolument les trucs gratuits, alors ne ratez pas cette occasion de jouer à Overwatch gratuitement ! Ce Week-end Gratuit débutera le samedi 26 mai 2017 à 20h et se terminera le 29 mai 2017 à 20h59. Cette manifestation fait partie de la célébration du premier anniversaire du jeu, comprenant des évènements et des avantages à partir du mardi 23 mai.
---
---
Pour participer au Week-end Gratuit Overwatch, vous devez simplement vous connecter à votre compte Battle.Net si vous jouez sur PC. Il est aussi accessible aux joueurs sur PlayStation 4 avec une adhésion PlayStation Plus, ainsi que pour Xbox One avec une adhésion Xbox Live Gold.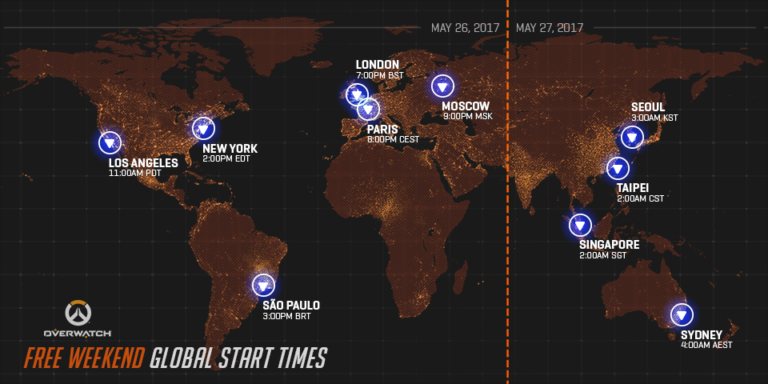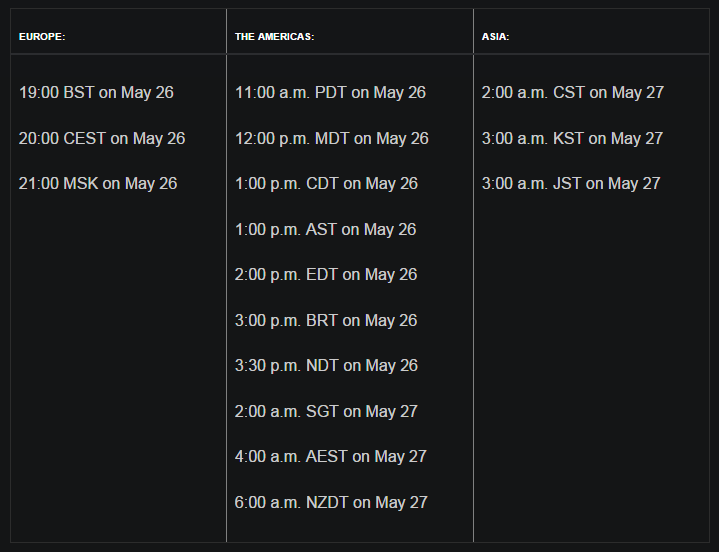 Le Week-end gratuit donne aux joueurs l'accès à tous les 24 héros et aux 14 cartes qui sont disponibles dans une variété de modes de jeu incluant Quick Play, Custom Games, et Arcade. Les joueurs peuvent aussi gagner des boîtes de loot, monter en niveau, et même débloquer des options de customisation.
Si vous souhaitez acheter le jeu après le Week-end Gratuit Overwatch, toute la progression sera sauvegardée et pourra être reportée dans le jeu complet. Génial !
Outre ceci, Overwatch célèbrera son anniversaire avec la sortie de l'Édition Jeu de l'Année d'Overwatch le 23 mai 2017 pour PC, PlayStation 4, et Xbox One. Elle remplacera l'Édition Origins. L'Édition Jeu de l'Année inclut les bonus suivants :
10 boîtes de loot
Skins Vintage Blackwatch Reyes, Strike-Commander Morrison, Overgrown Bastion, Security Chief Phara, et Slipstream Tracer.
Tracer pour Heroes of the Storm
Animal de compagnie Baby Winston pour World of Warcraft
Ailes Mercy pour Diablo III
Tracer, Reaper, Pharah, Winston, Bastion, et Soldier : 76, portraits pour StarCraft II
Dos de cartes sur le thème d'Overwatch pour Hearthstone
Comme toujours, cochez la date, et n'oubliez pas d'en parler à vos amis !