Roue de la Fortune exclusive Goclecd
Goclecd.fr a toujours été très généreux avec ses utilisateurs et ses abonnés.
Nous offrons à nos utilisateurs des façons supplémentaires d'obtenir des choses gratuites sur notre site internet grâce a notre Programme de Fidélité.
Steamkeybox
Loteries COINS Goclecd
Mais ça ne s'arrête pas la, nous avons crée une autre facon d'augmenter votre gain de points.
 La Roue de la Fortune Exclusive
Cette roue exclusive permet aux utilisateurs de gagner des Milliers de points quotidiennement!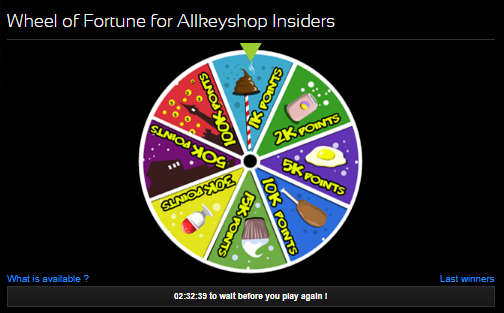 Voici les quantités de points que vous pouvez gagner.
1k Points

2k Points

5k Points

10k Points

15k Points

30k Points

50k Points

100K Points
Pour accéder a cette roue, tout ce que vous devez faire c'est vous inscrire a notre newsletter et donc devenir un
« Adhérent Goclecd
« . En tant qu'Adhérent, vous aurez une chance de gagner des milliers de points chaque jour!
Vous pouvez trouver le bouton pour s'inscrire (subscribe) dans le panneau de droite sur notre page Loteries Coins.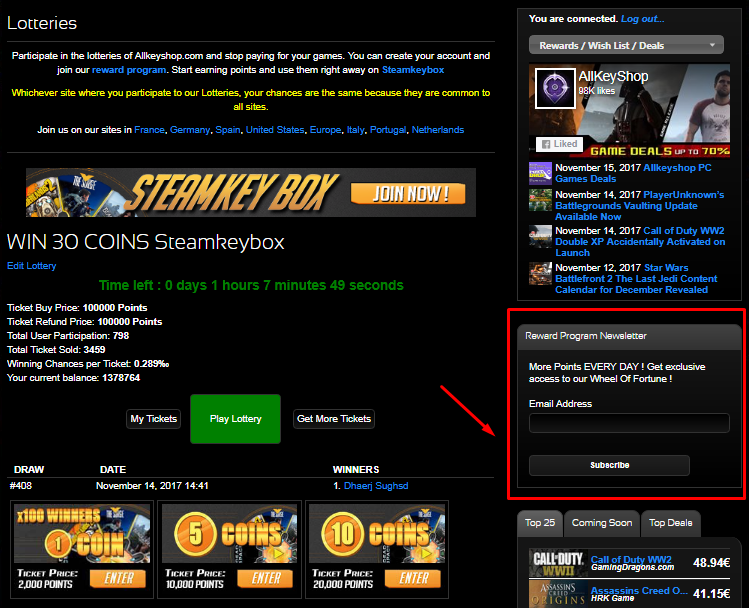 Vous pouvez tourner la roue une fois par jour.

Vous devez être inscrit sur notre newsletter puisque nous vous enverrons un lien exclusif pour accéder a la page a travers le courrier de la newsletter quotidienne.
Voici un exemple du courrier qui sera envoyé aux Adhérents Goclecd.
Rappelez-vous que vous ne pouvez recevoir cet accès uniquement si vous êtes inscrit.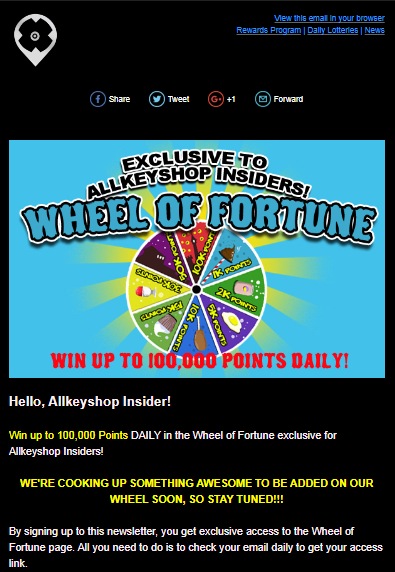 Cliquez juste sur « TOURNER LA ROUE DE LA FORTUNE MAINTENANT » (SPIN THE WHEEL OF FORTUNE NOW) et vous serez redirigé vers la Roue.

*Si vous nécessitez plus d'assistance ou avez une quelconque autre question vous pouvez nous contacter a travers notre support live chat (en bas a droite) ou envoyez-nous un email a 

support@allkeyshop.com

, nous serons plus que content de vous aidez.