Activer une cle russe Battlefield 4
Vous avez décider d'acheter une clée russe pour Battlefield 4 et de profiter des meilleurs prix du marché.
Car en effet les clés cd Russe sont acheter a bien moindre prix par les vendeurs et sont donc proposé beaucoup moins cher. Mais cela n'est pas sans conséquence, la plupart du temps certaine manipulation sont nécéssaire pour profiter pleinement du jeux que l'ont a acheter.
Pour ce qui est de l'achat rien de compliqué une fois que vous avez sélectionner votre vendeur.
Il ne vous reste plus qu'a cliquer sur : 

Vous serez rediriger chez celui ci et vous pourrez faire votre achat
Vous pouvez consulter notre article pour
activer une clé cd origin
. 
Cela pour les clé Origin non Russe

Dans notre cas nous avons acheté une clé russe de Battlefield 4 chez
CdKeyWarhouse
La méthode pour activer votre game code russe de Battlefield 4 est expliquer sur une page dédié que vous pouvez consulter en
cliquant sur ce lien
.
1/ Télécharger le pack de langage, extraire et copié les fichier dans C:\Program Files\Origin Games\Battlefield4 main folder
2/ Supprimer le dossier Langage Russe dans Battlefield 4\Data\Win32\Loc folder
Instructions du registre:
Cliquer sur démarrer / Executer / Regedit
Verser fenêtres 32 Bits, Trouver Reportages: 
[HKEY_LOCAL_MACHINE \ SOFTWARE EA Games \ Battlefield \ 4]
Versez Windows 64 Bits, Trouver Reportages: 
[HKEY_LOCAL_MACHINE \ SOFTWARE \ Wow6432Node EA Games \ Battlefield 4 \]
  et changeur ru_RU fr_FR
32 bits de Windows; DE Trouver Reportages:  
[HKEY_LOCAL_MACHINE \ SOFTWARE \ Origin Jeux \ 1010270]
 ,
sur 64 bits de Windows; DE Trouver Reportages:  
[HKEY_LOCAL_MACHINE \ SOFTWARE \ \ WOW6432Node Origine Jeux \ 1010270]
  et changeur ru_RU fr_FR
Pour regedit: Anglais:  
en_US,
  allemands:  
de_DE,
  français:  
fr_FR,
  italiennes:  
it_IT,
  espagnols:  
fr_FR,
Bypass origine pour utiliser des fichiers RU:
Aller à  
http://outcome.nofate.me/
 . 
Télécharger le logiciel de résultat, patcher vos fichiers PAR ligne et installer / Résultat de fonctionner. 
Vidéo: 
http://www.youtube.com/watch?v=Te3WY7bwzfE
Cliquez sur Lire sur Origin pour ouvrir Battlelog puis fermez Origin. 
Connectez-vous à votre compte Origin sur les résultats.
Vous pouvez désormais, jouer en ouvrant le jeu sur Battlelog.
Avis du vendeur CdKeyWarhouse
Clé Russe Acheter: Battlefield 4 RU
Version: Battlefield édition standard
Vendeur Choisis: CdKeyWarhouse
Temp de Livraison: 8 minutes
Pas de promo available

Vous pouvez retrouver ces informations sur notre page dédié au vendeur de clé cd CdKeyWarhouse.
CdKeyWarhouse.com crée en 2010 est devenu CdKeys.com en Octobre 2013
Il bénéficie d'un trés bonne réputation sur
Trustpilot
avec un score de satisfaction de 9.3/10
Présent sur
Facebook
avec plus de 28 000 abonnées, il offre une bonne expérience pour l'utilisateur qui pourra acheter sans craintes chez ce vendeurs.
Actuellement CdKeyWarHouse.com fait partis des vendeurs que nous mettons en avant dans notre section 
marchands de confiance
car il répond a nos exigences en terme de sécurité et de rapidité d'action.
Battlefield 4 le FPS de l'année
Bien que deja bien connus par les nombreux fan de fps. Dice nous offre un Battlefield comme jamais, hyper réaliste, un environnement presque totalement destructible, une personnalisation des armes uniques, est surtout pour les fan de la licences pret à faire des tournois la possibilité de faire du équipes contre équipes.
La notation des joueurs sur Metacritique dépasse les 82 points pour une note de 6/10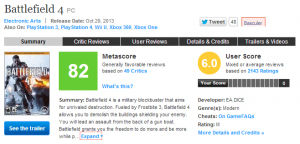 Ce qui est plus qu'honorable pour un Battlefield mais lorsque l'on compare à Call of Duty Ghost qui plafonne à 2/10  on peu pensez que la notation est rigoureuse et les joueurs n'ont plus peur d'etre trés sévére avec les editeurs. Surtout lorsque l'on considere l'évolution de des jeux vidéo depuis 5 ans, tout bon joueurs attend plus que ce qu'on lui propose la plupart du temps.
Pourtant on peu considerer que Battlefield 4 répond à la plupart des demande faites par les joueurs pendant la phase Battlefield 3. Le petit plus non négligeable est cette possibilité de jouer avec une équipe de 32 personne ce qui en fait le FPS ayant les teams les plus grande du monde. Je parle dans un esprit de tournois/Lan/ E-sport. 2 teams de 32 joueurs pourront s'affronter sur BF4. Nous avons déja vus quelques structure conséquente ce lancer dans la construction et la participation a des LAN. Je vous laisse imaginer 32 joueurs par teams pour un tournois plus les organisateurs etc..,  ce type de rencontre dépasse déja les 400 participants en comptant les organisateurs etc..
Bref de trés grosse rencontre à la clé.

Le mode commandeur est un must have et une innovation dans BF4. Une personne sera au commande de son équipe et pourra utiliser des atouts qui feront pencher la balance d'un coté ou de l'autre. L'avantage de ce poste et qu'il permet d'organiser l'attaque sans être obliger de prendre part au combat terrestre. pas besoin de surveiller ses arrières pendant qu'on lead la team, ce qui permet de se concentré sur le champ de bataille et d'avoir une vue général du battleground.
Je trouve ce poste vraiment très intéressant, un fin stratège aura une place qui fera pencher la balance en faveur de sa team.