World of Warcraft Patch 6.0.2 La Horde de Fer
World of Warcraft Warlords of Draenor est notre jeu du jour, disponible à 29.99€

[sws_button class= » » size= »sws_btn_medium » align= »sws_btn_align_center » href= »https://www.goclecd.fr/acheter-wow-warlords-of-draenor-cle-cd-comparateur-prix/ » target= »_blank » label= »Voir les prix » template= »sws_btn_mint » textcolor= » » bgcolor= » » bgcolorhover= » » glow= »sws_btn_glow_blue »] [/sws_button]
Activable sur le site Blizzard
Patch Day No Play, tous les joueurs de World of Warcraft connaissent l'adage :). Il va prendre tout son sens ce mercredi 15 Octobre pour la Mise à jours 6.0.2, nommée La Horde de Fer.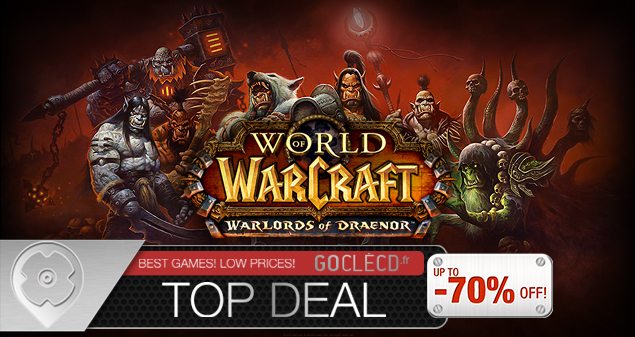 Celle-ci commencera à préparer le terrain pour l'extension Warlord of Draenor qui sortira le 13 novembre.
En attendant, découvrons ce que la Mise à jours 6.0.2 va faire pour nous.
MAJ 6.0.2 L'invasion de la Horde de fer
Nouveaux modèles des races: En effet, toutes les races on reçu un coup de neuf afin de remettre au goût du jour leurs graphismes, animations, détails, etc…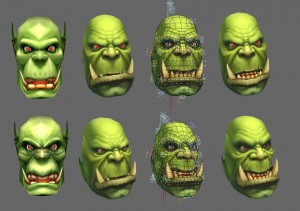 Refonte des équipement et des statistiques: Grosse mise à jours de ce coté car les valeurs de dégâts vont être modifiées. Fini les critiques à 1 000 000 sur les boss, tout sera harmonisé de ce côté.
Des caractéristiques secondaires nouveaux seront implantés, tels que:
La frappe Multiple: 50% de chance aux dégâts et aux soins de déclencher le même effet à hauteur de 30% de leur efficacité.

La Polyvalence : augmentation des dégâts et des soins donnés, réduction des dégâts reçus.

Armure Supplémentaire: Ne concerne que les tanks (Amélioration d'armure).
Des Caractéristiques secondaires mineurs seront également ajoutés tels que:
Vitesse de déplacement : augmente la vitesse de déplacement.

Indestructibilité : aucun dégât sur l'objet.

Sangsue : Applique un effet de sort vampirique.

Evitement : Réduction des dégâts de zone.
Invasion de la Horde de fer: La porte des ténébres sert de passage à nouveau pour une nouvelle armée. Une invasion massive d'Orcs autoproclamée « Horde de Fer ». Vous devrez rejoindre le front et combattre contre cette armée et ses commandants.
UBRS : le Sommet du Pic-Rochenoire: 
Le retour au source, la zone la plus fréquentée de Wow Vanilla, va de nouveau recevoir un peu de visite. En effet, cette zone était à l'époque le carrefour de toutes les soirées PVE HL avec Molten Core, BWL. Ce temps n'était que joie, bonheur, et passage sous le bus. Haaaaaa que de souvenirs…
Et bien cette instance bien connue également grâce au fabuleux Leeroy Jenkins est maintenant complètement différente.
Vous pourrez y accéder dès mercredi. Les 3 premiers boss seront alors disponibles et vous pourrez commencer la découverte du patch 6.0.2 qui mettra la plupart des éléments de Warlords of Draenor en place.
La Horde de fer a élu domicile dans UBRS pour préparer son armée et installer une arme dévastatrice capable de ravager le pays jusqu'à Hurlevent.