The Crew Pimp my Ride
The Crew est notre jeu du jour, disponible a 21.49€

[sws_button class= » » size= »sws_btn_medium » align= »sws_btn_align_center » href= »https://www.goclecd.fr/acheter-the-crew-cle-cd-comparateur-prix/ » target= »_blank » label= »Voir les prix » template= »sws_btn_mint » textcolor= » » bgcolor= » » bgcolorhover= » » glow= »sws_btn_glow_blue »] [/sws_button]
The Crew nous a présenté la semaine dernière une vidéo présentant la personnalisation des véhicules. Les passionnés de tuning seront servis « voir resservis » car les options ne manquent pas.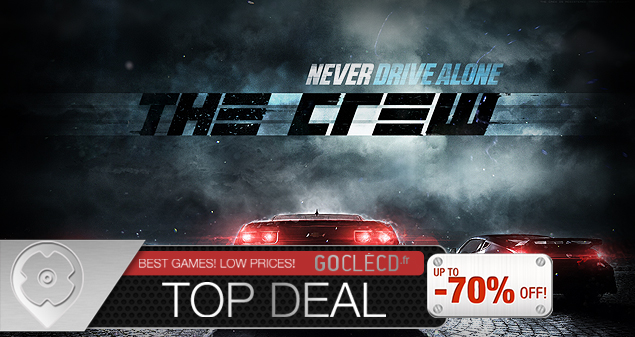 The Crew s'apparente à un MMO avec une dimension PVP, « sisi », et si vous souhaitez remporter vos batailles, il faudra attaquer en équipe. La meilleur option qui vous est offerte est de bloquer le véhicule à plusieurs pendant que vous vous acharnez à l'attaquer par le flan ou l'arrière. L'objectif finale étant de détruire les véhicules adverses.
Vous pourrez donc apporter des améliorations techniques et esthétiques à vos bolides en plus de kits permettant à vos véhicules d'être à l'aise sur tel ou tel terrain.
The Crew on recule pour mieux sauter
Ubisoft, après avoir repoussé une troisième fois la date de sortie de The Crew nous a offert cette vidéo mettant en scène les options de personnalisation et les différents kits.
Comme je le disais, Ubisoft a repoussé trois fois la sortie de The Crew, ce qui nous amène au 2 Décembre. La raison du dernier report est que Ubisoft a décidé de faire une seconde Beta afin de peaufiner certains détails.
Repousser la sortie n'est pas une mauvaise stratégie à mon avis, sachant que the Crew, aurait du jouer des coudes avec deux autres jeux de voiture sur la même période : forza Horizon 2 et Driveclub, uniquement disponible sur Xbox et PS4.