Styx master of Shadows: Assassin's Green
Styx Master of Shadows est notre jeu du jour, disponible à partir de 19.98€
[sws_button class= » » size= »sws_btn_medium » align= »sws_btn_align_center » href= »https://www.goclecd.fr/acheter-styx-master-of-shadows-cle-cd-comparateur-prix/ » target= »_blank » label= »Voir les prix » template= »sws_btn_mint » textcolor= » » bgcolor= » » bgcolorhover= » » glow= »sws_btn_glow_blue »] [/sws_button]
Styx, notre héros du jour, cherche à tous prix comment voler le cœur de l'arbre monde protégé par les humains et les elfes.
L'arbre monde jalousement gardé produit une sève dorée : l'Ambre. Celle-ci serait source de pouvoir.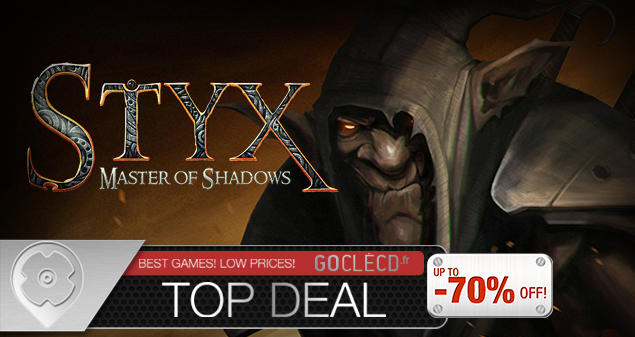 Après le premier épisode décevant nommé Of Orcs And Men qui n'avait pas convaincu les joueurs, le Gobelin est de retour avec des graphismes nettement plus travaillés et un gameplay aux petits oignons.
Après la sortie de Thief, Shadow of Mordor, Alien Isolation, voilà Styx Master of Shadows, un jeu d'infiltration clairement inspiré d'assassin's Creed.
Dans Styx Master of Shadows, vous aurez la possibilité de faire évoluer votre personnage grâce à des arbres de talents.
Arbres de compétences
Vous disposez de 6 types de compétences évolutives qui vous permettront de tuer, distraire, voler, assassiner les gardes de la tour d'Akenash.
Pour fêter la sortie du jeu, voici le trailer de lancement ainsi qu'une vidéo de gameplay des 30 premières minutes.
Trailer de lancement
Gameplay 30 premières minutes par jeuxvideo24.com
Quant à moi, je vais clairement y passer un moment et profiter du jeu 🙂