Ryse Son of Rome Beaucoup mieux sur PC
 Ryse Son of Rome est notre jeu du jour, disponible à partir de 22.38€
[sws_button class= » » size= »sws_btn_medium » align= »sws_btn_align_center » href= »https://www.goclecd.fr/acheter-ryse-son-of-rome-cle-cd-comparateur-prix/ » target= »_blank » label= »Voir les prix » template= »sws_btn_mint » textcolor= » » bgcolor= » » bgcolorhover= » » glow= »sws_btn_glow_blue »] [/sws_button]
Je commencerai par ces mots de P.J Esteves, Design Director chez Crytek, lors d'un interview à la Gamescon 2014
L'édition PC est la meilleure expérience de jeu cinématographique que vous puissiez avoir .
En plus du fait que Ryse of Rome soit développé pour PC, il a été également adapté pour la 4K. Donc forcément, un atout considérable pour la beauté des graphismes sur un jeu comme Ryse Son of Rome.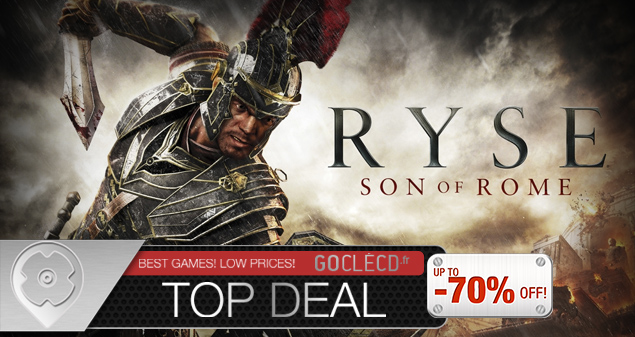 Voici une vidéo permettant de voir la différence entre la qualité PC et XboxOne. La vidéo à elle seule suffira à convaincre les fans que la version PC est largement criante de supériorité.
(D'ailleurs quel intérêt d'avoir des consoles si même ces plateformes complétement dédiées aux jeux vidéo ne sont pas capables d'offrir mieux qu'un PC… qui lui est multitâches ???)
En parlant de PS4 nous avions appris par Brian Chambers, un des producteur du jeu, que Ryse Son of Rome ne verrait pas le jour sur PS4, Crystek souhaitent partir sur des projets directement développés sur PS4, comme il le précise lors d'une interview.
L'arrivée du jeu sur PC est une réponse directe à l'intérêt des joueurs. […] La décision de sortir Ryse sur PC était logique pour nous. Non seulement elle nous permet de répondre directement à nos fans, mais c'était également l'occasion pour nous de montrer ce que le CryEngine est capable de faire. La PS4 a acquis une large base d'utilisateurs rapidement, et Crytek développera des titres pour elle dans un avenir proche, tel que HUNT: Horrors of the Gilded Age. Actuellement, nous ne comptons pas sortir Ryse sur PS4.