Plants VS Zombies Garden Warfare 2 Beta Multijoueur: Comment la rejoindre ?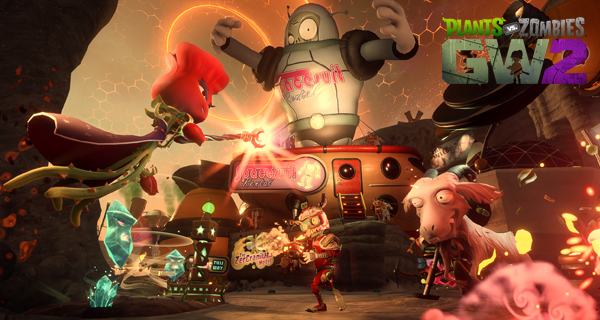 Plants VS Zombies Garden Warfare 2 Beta Multijoueur est ouvert au Public
Le très populaire jeu de tir à la troisième personne Plants Vs. Zombies est de retour avec Plants Vs Zombies Garden Warfare 2. Dans un article posté sur le site officiel du jeu, Plants vs Zombies GW2, est mentionné la date de sortie en Amérique du Nord, ce sera le 23 Février 2016 ainsi que le 25 Février 2016 pour les pays Européens. Approchant de sa date de sortie, PopCap et EA, ouvre une version Beta multijoueur accessible au public. La Bêta multijoueur débutera le 14 Janvier et se poursuivra jusqu'au 18 Janvier. Celle-ci sera disponible pour Xbox et Playstation 4. Pour vous inscrire, il suffit d'aller sur ce <lien> pour rejoindre la beta multijoueur de Plants vs Zombies Garden Warfare 2 à sa date d'ouverture. Vous pouvez attendre beaucoup de grandes choses de Plants vs Zombies Garden Warfare 2 Beta multijoueur. Faites l'expérience du Battleground Backyard où vous pouvez interagir avec l'environnement et avoir accès à diverses cartes et modes. L'accès à la Beta permettra de jouer aux modes The King of the Hill, ainsi que Drapeau Of Power où à vous devez à tout prix ne pas laisser l'ennemi prendre le drapeau. L'accès à la Chambre des Quêtes et la Chambre des Statistiques sera également disponible. Joignez-vous à d'énormes batailles jusqu'à 24 joueurs dans la toute nouvelle carte « Moon Base Z », ou encore sur la carte classique « Seed Of The Time » où les zombies attaquent et les plantes jouent la défense. Regardez la vidéo de la bande annonce ici:
Plants vs. Zombies Garden Warfare 2 sera disponible sur PC via Origin, Xbox One et Playstation 4. Pré-commandez votre exemplaire dès maintenant et obtenez le au meilleur prix et économisez de l'argent!