Les bons plans du Samedi 6 Septembre 2014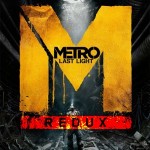 Metro Last Light redux à 8.90€
Voir les prix de Metro Last Light Redux
Steam Il s'agit de la réédition du jeu Last Light amélioré graphiquement. Vous survivez dans l'univers Moscovite apocalyptique entre les tirs croisés des ennemies humains et mutants, les deux n'étant pas alliés contre vous. Votre secteur : les souterrains, le métro et autres tunnels et bases enfouies. L'utilisation de masques anti-bactériologiques et chimiques est fortement recommandée pour survivre. Oublier de changer la cartouche du masque entraînera une mort certaine.
---
The Walking Dead saison 2 à 5.69€
Voir les prix de The Walking Dead saison 2
Steam Sous les traits de la jeune Clémentine rencontrée dans le premier épisode, vous devrez survivre dans ce monde maintenant envahi de Zombies. Si vous avez joué à The walking Dead 400 days, la suite de cet opus est complètement compatible et les choix moraux que vous aurez pris dans le premier auront un impact dans cet épisode.
---

Sacred 3 à 19.15€
Voir les prix de Sacred 3
Steam Sacred 3, un RPG selon les éditeurs, d'après les joueurs il s'agit plus d'un jeu de combat. En effet, les fans de la série restent relativement insatisfaits quant à la dimension RPG de ce dernier opus. Malgré tout, si vous aimez les combats vous serez totalement satisfaits ;).
---

KICK-ASS 2 à 11.16€
Voir les prix de KICK-ASS 2
Steam Un jeu pas vraiment de notre temps avec quelques bugs et un manque de maniabilité flagrant (entre autres). Malgré tout, pour les fans du film un petit retour dans l'univers pourra être un bon exutoire et vous aurez la possibilité de jouer avec HitGirl contre le fabuleux MotherFucker. xD
---