Dark Souls 2 : Crown of the Ivory King
Dark Souls 2 : Crown of the Ivory King est notre jeu du jour.

Etant donné qu'il s'agit du troisième opus de la trilogie.
Je vous recommande donc de prendre le Saison pass de Dark Souls 2 disponible à 13.99€ plutôt que d'acheter les DLC une par une.
[sws_button class= » » size= »sws_btn_medium » align= »sws_btn_align_center » href= »https://www.goclecd.fr/acheter-dark-souls-2-season-pass-cle-cd-comparateur-prix/ » target= »_blank » label= »Voir les prix du Season pass » template= »sws_btn_mint » textcolor= » » bgcolor= » » bgcolorhover= » » glow= »sws_btn_glow_blue »] [/sws_button]
Activable sur Steam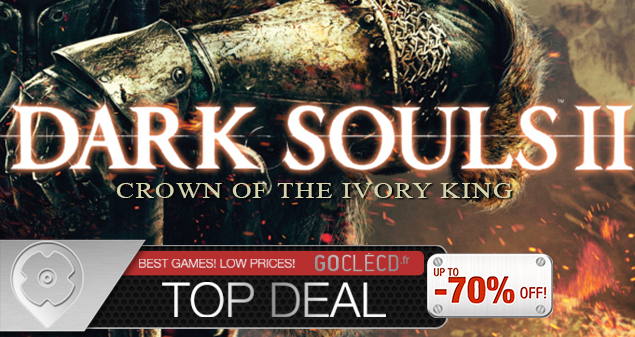 La derniere DLC de la Trilogie
The Lost Crowns
va bientôt voir le jour. Initialement prévue pour le 23 Septembre, il faudra finalement attendre quelques jours de plus pour en profiter.
Seuls les joueurs les plus tenaces pourront prétendre affronter les boss et avancer dans cette trilogie. Ils devront parcourir les sombres cavernes afin de récupérer les couronnes d'anciens roi et bien d'autre items et équipements.
Date prévue de sortie de la DLC Dark Souls 2 : Crown of the Ivory King: 30 Septembre 2014