Company of Heroes 2 : Ardennes Assault, bonus de pré-commande
Company of Heroes 2 : Ardennes Assault est notre jeu du jour, disponible à partir de 15.51€

Company of Heroes 2 Ardennes Assault arrive à grand pas et pour la première fois dans l'histoire de la franchise Company of Heroes les joueurs auront la possibilité de choisir entre trois compagnies différentes dans cette extension.
La section aérienne
L'infanterie mécanisée
Les unités de soutien
Vous aurez la possibilité de déployer ces unités dans chaque mission avec un officiel différent dans chacune. Cet officier aura sa propre histoire, sa vision de la guerre et des compétences propres.
18 nouveaux scénarios : 11 nouvelles missions et 7 événements inspirés de la bataille des Ardennes.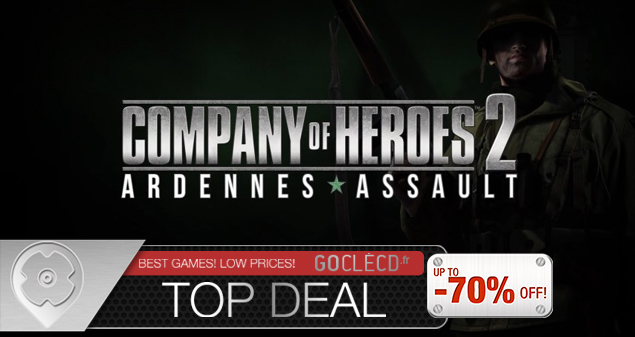 Précommandez CoH Ardennes Assault et recevez une  quatrième compagnie en bonus.
Les rangers de la compagnie Fox commandée par le Capitaine Durante :
ce bonus contiendra également des rapports de gestion, des missions exclusives ainsi qu'une quantité importante de personnalisation du gameplay.
Ce bonus est gratuit pour ceux qui précommandent la version bonus sur notre comparateur

(vérifiez bien qu'il s'agit bien de la bonne version bonus avant d'acheter)
ou en pré-commandant sur Amazon.fr, Fnac.com et Auchan.fr
(Forcément les prix seront nettement plus élevés que ceux que nous proposons mais vous êtes libre de faire vos choix 😉 )
Voici le trailer sous-titré en français qui présente l'extension Company of Heroes La Bataille des Ardennes